Presentations

"Thank you Elizabeth – Great turn-out! Great evening! I am so pleased with the group of energetic adults that attended the "Look Who's Talking" event last night! You gave a terrific presentation and I especially enjoyed the way that you engaged the audience in your presentation. Love your "risk = reward" concept – and the audience did too! Thanks again for being part of our community speaker series!"
~ Marsha B., Director
Elizabeth L. Craig, Award-Winning Speaker and Facilitator
Elizabeth Craig, who has spent more than 25 years in the career counseling field, is a dynamic, engaging, and personable speaker, workshop presenter and facilitator. If you'd like Elizabeth to speak to your business or organization, please call her directly at: 612.747.3011 or email: elizabeth@elcglobal.com. Elizabeth Craig provides career counseling consultations for clients in the Minneapolis, Minnesota and Palm Beach, Florida areas. She also offers career counseling, job search strategies, career planning, and online career tests and assessments for clients all across the globe.
April 2019 Events
WEBINAR:
Top Skills for Interview Preparation Follow-Through and Follow-Up™
April 4, 2019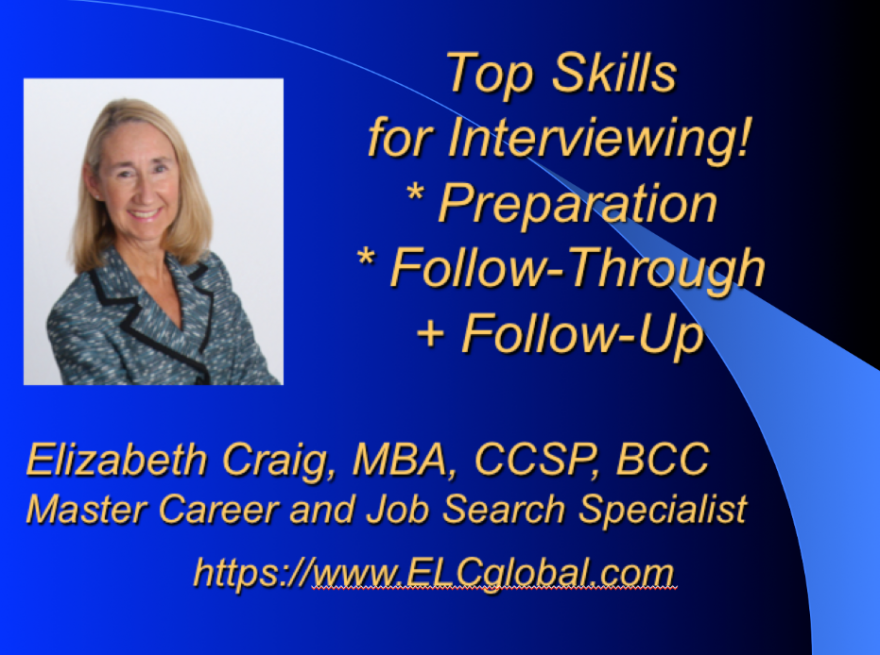 February 2019 Events
WEBINAR:
How To Be the MVP of Your Career Change™
February 28, 2019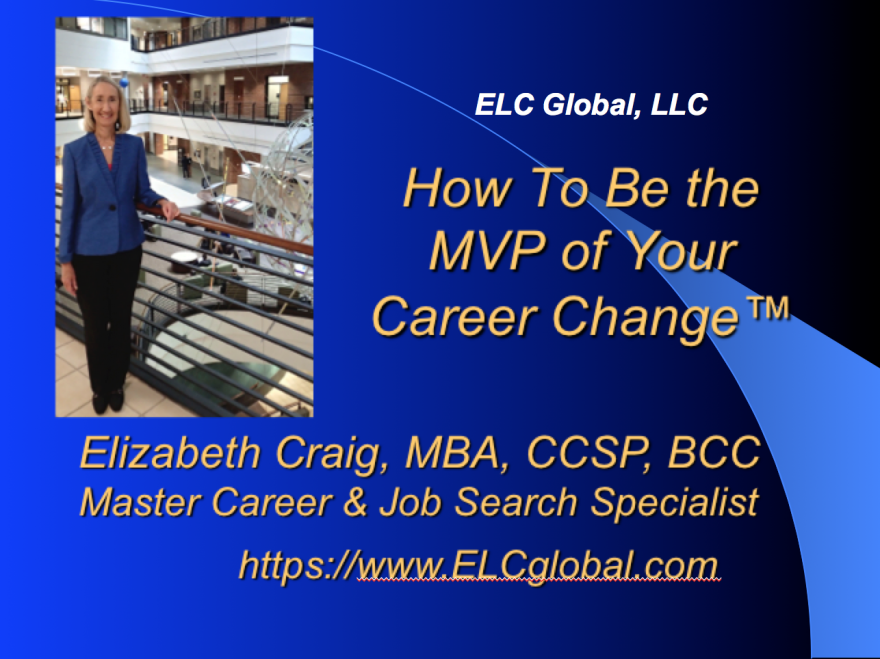 Please call Elizabeth at 612.747.3011 if you would like more information and the handout.
October 2018 Events
WEBINAR:
Making a Career Change
Thursday, October 11, 2018
Elizabeth Craig was thrilled to again present for the University of Minnesota Alumni Association, this time on the much-requested topic: "Making a Career Change."
Would you like the link to this webinar? Please contact Elizabeth Craig at 612.747.3011.
"I found the webinar very inspiring and can't wait to go back and re-watch it!"
- UofM College of Liberal Arts Staff
Begin planning for your personal career change with Elizabeth Craig's pro-active 5-step "Great Work Formula!" (TM) to making a career change.

Learn three key things you must do to energize your capabilities, leverage your accomplishments and connect with meaningful and rewarding work following this special presentation.

What is the fastest way to land my next job? Elizabeth will conclude her presentation with the research on % success rates of the "Top 4 Ways to Land a Job!
Connect with Elizabeth on LinkedIn so you can benefit from her over 4,300 networking connections in your job search or career advancement.

October 2017 Events
Master Class Session: A Campaign Strategy for Your Career
Thursday, October 5, 2017
11:00 a.m. – Noon, Grand Hotel Minneapolis in Downtown Minneapolis, MN
Executive Leadership Support Forum: Twin Cities featured speaker. As an ELS Forum Thought Leader, Expert Trainer and Advisor Elizabeth Craig is energized to lead this interactive session.
A job description hardly reflects the ever-increasing responsibilities of an executive assistant. Whether searching for a new opportunity, preparing for an annual review, or priming for an interview, having a clear career strategy in place is a vital first step. By documenting significant projects and accomplishments, EAs are better prepared to negotiate desired salaries, benefits, and title changes. During this master class, attendees will gain best practices surrounding resume development and tips for developing a standout LinkedIn profile with the goal of taking the first step in establishing a campaign strategy for their career.
January 2016 Events
COMPLIMENTARY WEBINAR:
Top Skills for Interview Preparation, Follow-Through and Follow-up
Thursday, January 21, 2016
Noon Central, 1:00 pm Eastern
Job Seekers and Career Changers Invited! Thrilled to speak on "Top Skills for Interview Preparation, Follow-Through and Follow-up" for the University of Minnesota Alumni Association.
October 2015 Events
Proactive 5-Step Process to Make a Significant Career Transition
Monday, October 12
SPECIAL UNIVERSITY OF MINNESOTA ALUMNI EVENT
Monday, October 12
3M Auditorium, Carlson School of Management
Go for it! Come learn your V+S+P to help yourself create a more meaningful future:
Energize your capabilities to see possibilities and start thinking about next steps

Leverage your accomplishments on paper and in interviews

Connect with fulfilling new opportunities in a meaningful, engaged and rewarding work life or career.
It can be easier than you think! Elizabeth will involve you in your own 5-Step Process for personalized career transition. You will be amazed at what you will learn including your unique V+S+P motivations that brought you to where you are now and will lead you to your future. Plus, you will identify your areas of success to move towards your goals. Results will expand possibilities and ideas for some and narrow down what's possible for others.
October 2014 Events
Professional Development Institute
Thursday, October 2, and Friday, October 3, 2014
Are you launching or needing to strengthen a private practice or consulting business? Join Elizabeth Craig plus 5 colleagues for an energizing content filled and action oriented Professional Development Institute (PDI) #1
Thursday, October 2, 2014, 8AM – NOON
at the Embassy Suites Airport Hotel in Bloomington, MN
Private Practice and Career Consulting 101
For anyone interested in getting help and support in launching or strengthening a private practice. This workshop will provide practical information you can immediately use, your personalized action plan and inspiration. Instructors are an experienced group of private practice coaches and counselors. Topics will include developing a clear vision, developing your niche, tips for running your business, multiple streams of income, marketing, networking, online branding and best business practices for successful results.
Elizabeth Craig is the Volunteer Coordinator of the 2014 Minnesota Career Development Association (MCDA) Fall Event and the National Career Development Association (NCDA) – Career Practitioner Institute on Friday, October 3, 2014.
Elizabeth Craig, ELC Global, LLC is also a Series III Featured Speaker from 1:30 – 2:30 PM
#9 Quarter Century of Best Practices to Effectively Develop and Promote your Career Coaching and Consulting Business with Elizabeth Craig, MBA, MCDP, GCDF®I, BCC
Learn ten (10) leading edge techniques and begin developing your own (or your clients) winning strategy right now! Do you wish that someone would share their proven tips and techniques for a thriving career coaching and consulting business and hand them over to you? Elizabeth will share lessons learned from over 25-years of her successful career development practice. She will condense her most effective strategies taking you from self-reflection to action. In this interactive workshop you will take away techniques you can immediately implement.
October 2010 Events
Living & Working on Purpose
Saturday, October 2, 2010
9:00 a.m. – 4:00 p.m.
Location: Eden Prairie Education Center, Eden Prairie, MN
Annual Purpose Check-In
Thursday, October 7, 2010
6:00 p.m. – 9:00 p.m.
Location: Eden Prairie Education Center, Eden Prairie, MN
Career Fitness — 10 Minutes A Day
Saturday, October 9, 2010
9:00 a.m. – Noon
Location: Eden Prairie Education Center, Eden Prairie, MN
June – July 2010 Events
KEYNOTE PRESENTATIONS!
National Career Development Association 2010 National Conference
A Bridge to a Brighter Future! Inspiring Careers — Empowering Lives!
~ Chosen from over 300 proposals to present two keynotes!
Location: Hyatt Regency (Embarcadero), San Francisco, CA
Facilitating Across the Generations
With multiple generations learning and working together, how can we ensure we are meeting all their learning needs? Gain new perspectives on the contributions each generation may bring to teamwork and practical techniques that work across all generations. In this highly interactive session, discover 11 strategies and practical techniques for facilitating that spans time, preferences, and experience.
Wednesday, June 30, 2010
2:30 p.m. – 3:40 p.m.
Living and Working on Purpose
Do you ask yourself questions like: What's next? or Where do I go from here? We'll overview interactive exercises that provide clarity around your personal life purpose and direction utilizing the newest practical knowledge and takeaways. Discover how to make positive life and work choices to live your version of the Good Life.
Thursday, July 1, 2010
10:30 a.m. – 11:45 a.m.
May 2010 Events
Thought Leader Interview
Career Fitness — How to Survive and Prosper in
Today's Workplace Blog Talk Radio
Thursday, May 20, 2010
10:00 a.m. – 10:30 a.m. CDT

KEYNOTE:
Career Fitness — 10 Minutes A Day
Look Who's Talking! 2010 Spring Speaker Series, Edina, MN
Monday, May 3, 2010
7:00 p.m. – 8:30 p.m.
Location: Edina Community Center, Edina, MN
"Thank you Elizabeth – Great turn-out! Great evening! I am so pleased with the group of energetic adults that attended the "Look Who's Talking" event last night! You gave a terrific presentation and I especially enjoyed the way that you engaged the audience in your presentation. Love your "risk = reward" concept – and the audience did too! Thanks again for being part of our community speaker series!"
~Marsha Buchok, Director
Center for Adult Education, Edina Public Schools, Edina, MN

Living & Working on Purpose
Saturday, May 1, 2010
9:00 a.m. – 4:00 p.m.
Location: Eden Prairie Education Center, Eden Prairie, MN
March 2010 Events
LUNCHEON KEYNOTE:
Lifestyles for a Healthy Brain
Saturday, March 13, 2010
Noon – 1:00 p.m.
Location: National Society Daughters of the American Revolution (NSDAR), Garcilaso de la Vega Chapter, Palm Beach, FL
November 2009 Events
Living & Working on Purpose
Saturday, November 7, 2009
8:00 a.m. – 4:00 p.m.
Location: Eden Prairie Central Middle Schools Lounge, Eden Prairie, MN
Click here to download the brochure.
October 2009 Events
Spa Night of Your Dreams Women's Conference
Friday evening, October 2, 2009
5:30 p.m. – 9:30 p.m.
Location: Wayzata Community Church
Elizabeth Craig, President of ELC Global, LLC is providing the Closing Keynote:
"Taking Your Dreams to Life and Work" + two (2) Breakout Sessions!
Enjoy an evening of inspiring women leaders, music, appetizers & dessert, all providing personal growth and meaningful renewal!
A collaborative venture sponsored by Wayzata Community Church, The Marsh—A Center for Balance and Fitness, and the University of Minnesota Center for Spirituality & Healing
Spa Night Breakout Session #1 - "Future Focused Collage"
6:40 p.m. – 7:30 p.m.
Elizabeth Craig, President of ELC Global, LLC
Yes! This is for you! You get to create a collage of the future you desire!
Energize, leverage, connect (www.elcglobal.com) with yourself and choose What's Next!
Spa Night Breakout Session #1 - "Your Personal Career Fitness System"
7:40 p.m. – 8:30 p.m.
Elizabeth Craig, Career Fitness Professional (CFP), President of ELC Global, LLC
Do you have a personal fitness trainer? Then you know how that helps you set a plan to build a healthy body. In the same way, there are good ways to take your aspirations, dreams and hopes… and build those into a beautiful career. Keep your career fit, growing stronger and changing by learning the steps it takes to be your own personal career fitness trainer.
Spa Night Keynote Presentation and Dessert - "Taking Your Dreams to Life and Work"
8:40-9:30 p.m.
Elizabeth Craig, MBA
University of MN Center for Spirituality & Healing
September 2009 Events
Purpose Check-In: Discovering What Matters
Business and Career Workshop, Library Foundation of Carver County
Saturday, September 19, 2009
9:00 a.m. – Noon
Chanhassen, Minnesota
This workshop brings together those who have taken the Working on Purpose workshop. You'll gain new knowledge and the most up-to-date research on discovering what matters, checking in with yourself, and learning from others.
Working on Purpose™
(Discovering What Matters in the Second Half of Life)
Business and Career Workshop, Eden Prairie Community Education
Friday, May 1, 2009
8:30 a.m. – 4:30 p.m.
Eden Prairie, Minnesota


What gets you up in the morning? Using a coaching model, you'll clarify what really matters for your second half of life. The Working on Purpose workshop combines presentation, discussion, self-inventories, work in small groups, and goal setting. You'll walk away from the workshop with a purpose, declaration, and the next steps you can take to make the second half of your life the best half.
For more information click on printable brochure.
Teleclasses
Discovering What Matters to Individuals Age 45+
Thursday, April 9, 2009
Noon – 1:00p.m. CT
Elizabeth Craig interviews Richard Leider on Dr. Sally Gelardin's Careerwell Tele-Interviews with Industry Experts
Listen to audio interview:
(Note: this audio does not run on mobile devices or Safari, please try in Chrome, Firefox, Explorer or Edge)

Interview questions and content are based on the recently released MetLife Mature Market Institute, Discover What Matters Study and Workbook.
Click here to read and/or print: MetLife Mature Market Institute Discover What Matters Study
Click here for the accompanying workbook: MetLife Mature Market Institute Discover What Matters
Presentations
KEYNOTE:
Lifestyles for a Healthy Brain
3rd Annual Edina Senior Exposition
Thursday, April 28, 2009
8:00 a.m. – Noon
Edina, Minnesota
Learn the six key brain health factors to enhance your brain health and build cognitive functioning. This presentation includes the latest leading research, which proves that the brain can regenerate. Decline is out! You can reverse the presumed downward decline through everyday lifestyle choices. One small, positive choice each day can lead to a long, vital life.
Elizabeth provides private career coaching and consultations, career counseling, career tests and assessments, workshops, classes, presentations on job search strategies, and career planning for clients all across the globe.